Accurate interpretation of the cause or causes of a forest change or phenological pattern typically requires supportive information. Many of the datasets available in the Forest Change Assessment Viewer for this support are independent products that have been produced by a number of different organizations. Some of these are captured as near real time Internet feeds, some are periodically updated, and others are fixed products. The list below credits and describes products that have proven useful for attribution purposes in the past.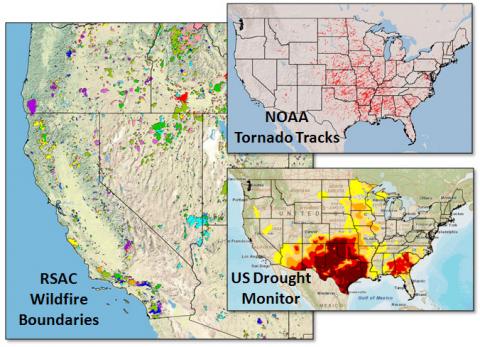 False positives
ForWarn eMODIS Cloud Assessment Product—Clouds and smoke from wildland fire can reduce NDVI, giving the false appearance of disturbance. Found in the Assessment Viewer, these true color maps show the same pixels used in the forest change maps. White or grey tones indicate clouds and a false positive for disturbance.
Snowpack—ForWarn's forest change products include areas of heavy snow as a distinct color, but light snow cover can also reduce NDVI. In addition to this legend, National snowpack maps may be useful for evaluating potential snow effects. A National Weather Service snowpack archive and regular updates are available here: http://www.nohrsc.noaa.gov/nsa/.
Forest disturbance maps and datasets
Climate and weather datasets
For more information on the data layers used go to the Forest Change Assessment Viewer Users Guide.